Investing in real estate is often considered very lucrative. It can, after all, increase your earnings to a great extent. But if you want to make the most of your real estate investment, you have to be very careful about location. Remember, location is one of the main aspects that help owners drive significant profit from a property.
Punta Cana is currently one of the most visited tourist destinations in the Caribbean. People across the globe, especially from North America and Europe, prefer to visit Punta Cana to enjoy the magnificence of its landscapes, the great hospitality, and the warmth of its beaches. Tourism is booming in this Dominican town, paving the way for real estate investment opportunities.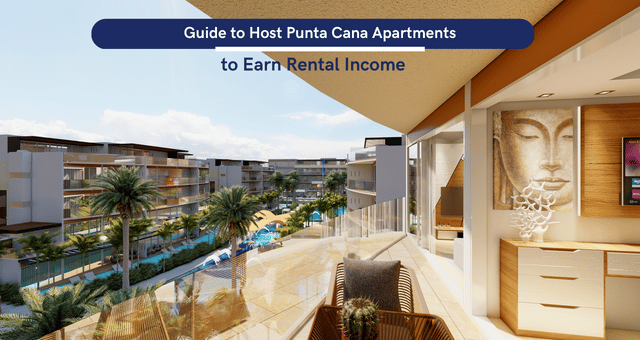 You don't need large properties, boutique hotels, or similar real estate to capitalize on Punta Cana's tourism growth. Having apartments or villas in this beautiful beach town does the job as well. Vacation rental companies such as Airbnb will help you achieve this goal. Although, there are also other options available in Punta Cana.
Today's post will discuss how you can become a rental host and create a sustainable income source from your Punta Cana property. It will still be helpful if you don't own an apartment in this town. In the end, we will talk about the leading real estate company you can trust to assist in acquiring apartments or other types of properties in Punta Cana. With that being said, let's dive in right away.
Become a Rental Host in Punta Cana
You can list your property on platforms such as Airbnb's vacation rental platform and earn through rentals. Although they are not the only option to consider. Surprisingly they don't charge any sign-up fees from property owners. It means more income through your real estate investment.
Vacation rental platforms allow the owners to gain comprehensive control over a property. They can take charge of the availability, house rules, prices, and ways to interact with guests. Besides, you can also choose your schedules and requirements for guests.
Once your apartments in Punta Cana are listed on Airbnb-style platforms, qualified guests can reach out to you and book their stay. They often cover each booking with $1M in insurance against accidents and another $1M in property damage protection. Such insurances help owners to rent out their apartments more confidently and keep their properties and belongings safe. 
The Easy Way to Acquire Apartments in Punta Cana 
We hope that you have understood how you can monetize your apartments in Punta Cana by leveraging the potential of Airbnb-style rental platforms. Here comes another question, what should you do if you don't already own an apartment in Punta Cana? Well, in that case, Coldwell Banker Prime Realty can help you. 
We are a globally recognized real estate brokerage firm helping clients buy and sell properties in the Dominican Republic without hassle. All our realtors are highly educated and trained. Most importantly, they have years of experience in this field. We assure to make every effort to help you find and acquire the best apartments in Punta Cana, and rental platforms will take care of the rest. So, partner with us and generate recurring income from your Punta Cana properties.