Nestled on the eastern part of the Dominican Republic (DR) has emerged as an optimal point of interest for tourists in the Caribbean, Punta Cana. The exponential tourism growth of this country also contributed to DR's real estate boom. Major Dominican cities and popular tourist destinations like Punta Cana, La Romana, Santo Domingo, Las Terrenas, etc., benefit from this.
In such scenarios, investing in the Dominican Republic's real estate market is often lucrative. But make sure to arrive at a decision only after discussing things with a local and reputable real estate agent. Continue reading to learn why you must work with an agent when investing in the Dominican Republic's real estate market.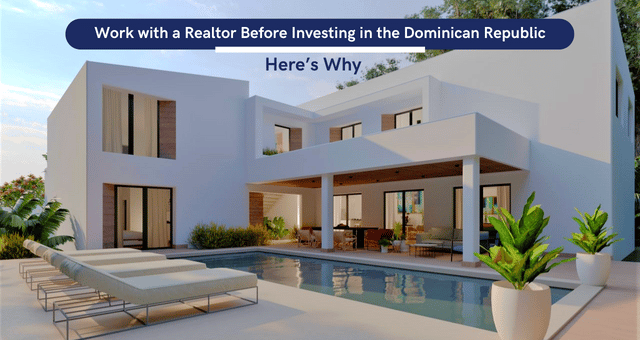 1 Build Proper Communication Channels
Establishing an adequate communication channel with the seller is perhaps the best way to crack successful real estate deals. However, this job is more challenging than it seems, especially for foreign buyers. Suppose an American real estate buyer wants to invest in Punta Cana. He can easily find properties using real estate listing sites but will face difficulties building a proper communication channel without the use of a local agent. 
It can happen due to a lack of resources, geographical and language barriers, etc. One person who can bridge this gap is a Punta Cana agent. An experienced realtor can build effective communication channels between the buyer & seller and close the deal sealing a win-win result for all parties. 
2 Clear Your Doubts and Overcome Hurdles
You may encounter several doubts while finalizing any real estate deal. Thankfully an experienced agent can clear them as they are the master of this pitch. Let's not forget that real estate transactions might also get complicated due to legal restrictions and regulations. You can easily overcome this hurdle by leveraging the niche knowledge of a local realtor. Therefore, working with an agent makes sense, as their expertise and advice will streamline the transaction process for you.
3 Get a Better Deal Every Time
In any negotiation or deal, virtually, there always will be room for improvement. So, even if you have implemented all kinds of strategies to turn the situation in your favor, an agent can still help you get a better deal through their local knowledge of the market, the sellers, and the buyers.
4 Streamline the Paperwork
Real estate transactions involve a lot of paperwork. Handling them may take a lot of time and effort and time from your day to day. However, you can simplify all the paperwork by relying on a well-informed and proficient agent. Doing so makes real estate transactions as smooth as possible for you.
Choosing the Best Punta Cana Agent
Investing in a foreign market is an exciting milestone to accomplish, but you need the right team to make it happen. Luckily Coldwell Banker Prime Realty can provide you with that. Our licensed Punta Cana agent can find the best properties for you and assist in making real estate transactions seamless. Contact us now and make your real estate investment dreams come true.