The best amenities, including a swimming pool, touch-button responding fixtures, planted gardens, mowed lawns, and many more, are generally included in luxury homes, condos, and villas. Additionally, they are highly guarded, ensuring the security of the locals and their priceless possessions. By purchasing a luxury property, you can achieve your lifestyle goals, peace of mind, unparalleled solitude, and all the most lavish luxuries in one location.
We advise considering Bavaro as the area if you wish to purchase a luxury property. The justifications for selecting this stunning beach resort area while buying a luxury home are provided in the following paragraphs.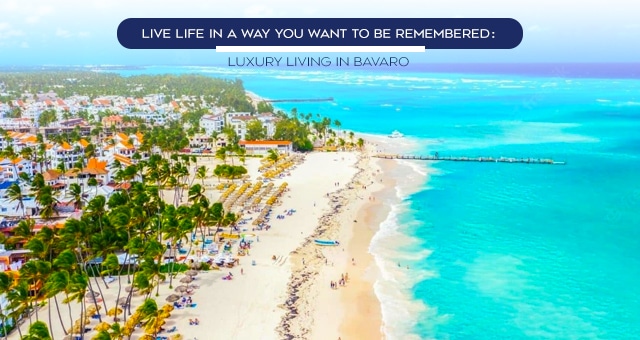 Location
Bavaro strikes a perfect balance of ambiance and connectivity. Living in a Bavaro apartment means you are close to Punta Cana's important hubs. Since it's a beach resort area, many Bavaro villas offer breathtaking views of the surroundings.
Safety
Punta Cana is much safer than the other areas in this region. Real estate in Bavaro or other areas in Punta Cana is a safe option.
Aspirational Value
Who doesn't want a luxury villa in a holiday destination?
Unfortunately, buying one in major American or European cities may cost you a fortune.
Thankfully luxury Bavaro homes can bridge the gap between your desire and purchasing power.
Since the Dominican Republic is a developing country, its real estate market is still cheaper than in Europe and North America. It allows people to buy flagship Bavaro condos, homes, and villas without breaking the bank.
Regarding lifestyle aspirations, Bavaro offers everything you might have dreamed about to transform your way of living. Investing in one of the best Bavaro beach condos will help you represent your status in the aptest style.
Living in luxury homes or apartments in Bavaro will pave the way for a laid-back lifestyle. If you are interested in investing in one, consider partnering with Coldwell Banker Prime Realty to make your property acquisition journey hassle-free. They are a highly rated and trusted real estate brokerage firm helping clients buy and sell real estate in Punta Cana and beyond. Contact them now to find the best Bavaro condos available for sale. Let us help you live life king-size!!