Dominican Republic (DR) is attracting foreign investment due to its strong and steady economy. The upturn in financial resources has benefited several DR industries, but real estate and tourism are considered the top two gainers. Since real estate prices in the Dominican Republic are among the lowest in the Caribbean, investors can expect a quick profit.
No wonder market sentiment for the Dominican real estate sector is at an all-time high on a positive note. This excitement can be contagious. As an intelligent investor, however, you must scrutinize every micro and macroeconomic factor before making any call. </p.
This post aims to examine a wide range of factors that will help you understand whether or not Punta Cana apartments are worth your investment. With our 3-point analysis, you can arrive at a wise decision and compound your wealth without taking much risk. So, let's dive into the discussion.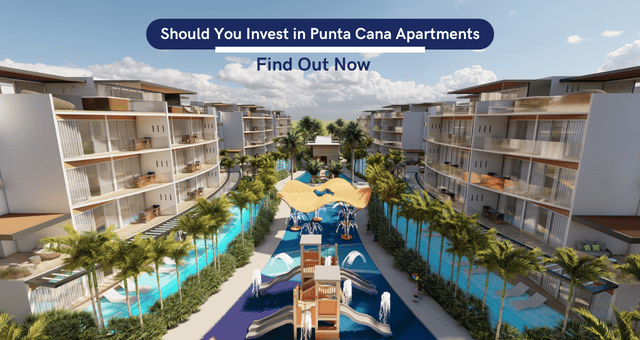 Capitalize on the Fast-Growing Dominican Economy
The Dominican Republic has shown remarkable economic growth in the last 25 years. Though the coronavirus outbreak slightly reduced the rate of progress, the turnaround story of this Caribbean jewel is incredible. We delved deep to figure out the key industries contributing to DR's growth. Mining, foreign direct investment, travel and tourism, tourism-led real estate, remittances, and telecommunications aided the Dominican Economy the most.
The government is making goal-oriented policies like free trade zones to nurture the bull run. The poverty rate in this Caribbean country is decreasing drastically, supporting the expansion of the middle class. DR is already tagged as the fastest-growing economy in Latin America and is expected to achieve high-income status by 2030. A strong and booming economy is considered a safe haven for long-term investment. Therefore, buying Punta Cana apartments makes sense. 
High Return Investment Opportunity
Dominican Republic's ongoing tourism appeal has made the rental business a lucrative option, especially in towns like Samana, Las Terrenas, etc. Beach destinations like Punta Cana also come on this list. You can expect high occupation and rental rates if you invest in Punta Cana apartments close to the beach. Studies have found that such properties can help you generate 8% to 10% annual returns in the form of rental income. 
Peak season in the Dominican Republic starts in the mid of December and lasts till the end of April. In this period, you can expect a massive jump in rental rates (40% to 50%) and occupation rates (75% to 90%). Christmas, New Year's Eve, and Easter are the best times for the tourism business in the Dominican Republic. The rental rates go as high as 200% during the festive season. So, you can charge twice or thrice for the same property. This is the best time to boost your income without increasing your capital or revenue expenditure.
The rise of tourism in the Dominican Republic is a key factor pushing the property value up. Therefore, owners can even enjoy a massive capital gain from their properties if they consider selling them. As the economy and tourism sectors of the Dominican Republic are constantly growing, you do not have to invest your hard-earned money for a long time to earn profits.
Political Stability Set the Tune for Socioeconomic Growth
The Dominican Republic took its first step towards democracy over two and a half decades ago. Now, this Caribbean nation is known for its political stability, globalized economic openness, multifarious industries, and rapid expansion. The government also paved the way for liberal thoughts, which foreign investors prefer. Overall, it is fair to conclude that 25 years of a long stable political situation has made DR the perfect breeding ground for new business opportunities.
Finally, we will conclude that investing in Punta Cana apartments is a smart idea if you want to grow your money quickly. But don't rush and invest in any property you come across. Always remember that location is the most critical aspect of real estate, and Punta Cana apartments are no exception. 
We, Coldwell Banker Prime Realty, are a leading real estate brokerage firm offering a comprehensive solution to help clients acquire the best properties in the Dominican Republic. Investors looking for opportunities in real estate can consider consulting with us. Let us help you ride the rising tide of DR's tourism and real estate sector.