Punta Cana's real estate market is now on a bull run following a temporary slowdown caused by pandemic-related restrictions and travel bans. The arrival of foreign buyers is one factor fueling the growth. We must not ignore the tourism boom in Punta Cana, which is also driving the Dominican Republic's property market. After all, many are purchasing land for luxury hotels and boutique guest houses to capitalize on the tourism growth of Punta Cana.
The purpose of this post is to shed light on big investors' movement in Punta Cana's property market. Besides, we will also discuss Dominican economic and political factors to understand whether the growing tide of the Dominican Republic's real estate market is sustainable or not. Since we have a lot to explore, let's get started without further delay.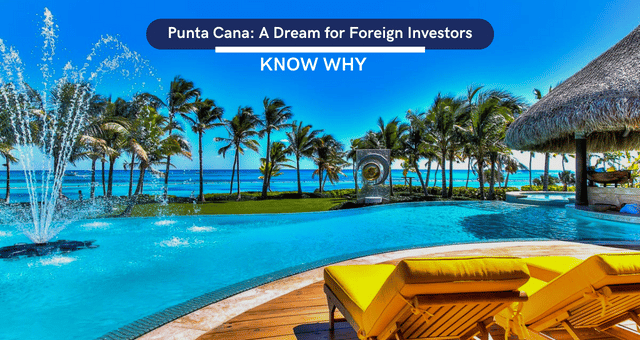 World's Largest Players Are Interested in Punta Cana's Property Market
Institutional investors, corporate houses, and high-net-worth individuals possess in-depth market knowledge. They make goal-oriented, data-driven decisions that help them turn the tide in their favor and create phenomenal fortunes from the market. Therefore, following the big players has always been considered fruitful for common investors.
Keeping that in mind, when we jump into the Punta Cana housing market, we notice the world's biggest hotel chains, prominent corporations, and wealthy individuals are heavily investing here. Big names like St. Regis, Marriott, Hyatt, Hard Rock Café, Conrad Fairmont, Ritz Carlton, Westin, and Four Seasons have already started to expand their operations across many locations in the Dominican Republic (DR), including Punta Cana. 
Massive due diligence carried out by big firms and individuals might make you think that Punta Cana is a money-multiplying machine. However, blindly copying others is never considered wise. So instead of following giants, we will first try to understand the political and socioeconomic conditions in the Dominican Republic as well as in Punta Cana. It will help us figure out whether the Dominican Republic's real estate boom will be sustainable or is just another bubble that will burst soon.
Understanding the Pillars of DR's Real Estate Growth
Recent data suggests that tourism in the Dominican Republic continues to grow. This Caribbean jewel had 6.5 million visitors in 2018. Although the tourism industry suffered from the COVID-led lockdown, it bounced back unimaginably in the post-pandemic timeline. The quality of tourism has also improved since then.
Tourism growth is directly influencing the real estate market. You can expect high rental yields from Punta Cana homes. So, one thing is certain here – the Dominican Republic's real estate market provides excellent earning opportunities in the form of rental income. But what about long-term investors?
As the Dominican Republic has finally found political stability, the economy is bound to grow along with that. As the economy grows with time, market stability will eventually improve. The continual investment into infrastructure will turn the Dominican Republic into a beautiful developing country. All these factors will likely push up real estate values in the time horizon. So, it is fair to say that Punta Cana Homes possess excellent long-term capital growth potential.
Conclusion
In this post, we looked at the big players investing in the Dominican Republic's property market. In addition, we also talked about the factors that are contributing to DR real estate growth. Anyway, we will conclude that Punta Cana homes and the entire DR real estate market are set to continue the bull run. To make the most of this growth, we recommend investing in Punta Cana homes as early as possible. 
Coldwell Banker Prime Realty is a leading real estate brokerage representing buyers and sellers while providing strategic advice, handholding support, and unbiased assistance. Reach out to us to discuss your real estate needs. Let us help you find the best properties in Punta Cana.