The real estate sector of the Dominican Republic (DR) was a slower market for a several. Both micro and macroeconomic factors were responsible for this. Socioeconomic inequality was another major factor that contributed to unemployment and poverty. Expecting growth in any sector in such a scenario could seem like unrealistic optimism. Maybe that's why domestic and foreign institutional investors were also once skeptical about DR's realty growth, until that all changed. 
Finally, a new dawn rose in this island country when the tourism industry started to boom. The jewel of the Caribbean, the Dominican Republic, is filled with beautiful natural wonders. All it required was economic and political stability to thrive. Policymakers and governing authorities played a vital role in normalizing and equalizing the different aspects of society, which in turn attracted plenty of foreign investors. The arrival of international global luxury property in this country further changed the whole complexion of the game. A country that was struggling to end poverty at one stage suddenly became an investors' heaven. Cities like Santo Domingo, La Romana, Punta Cana, Cap Cana, and Samana turned into some of the most visited tourist destinations in the entire Caribbean. 
When the unforeseen of Covid-19 happened causing a worldwide lockdown, the Dominican Republic acted quickly and was able save the tourism industry, which in turn caused the real estate markets and hospitality sectors to later flourish.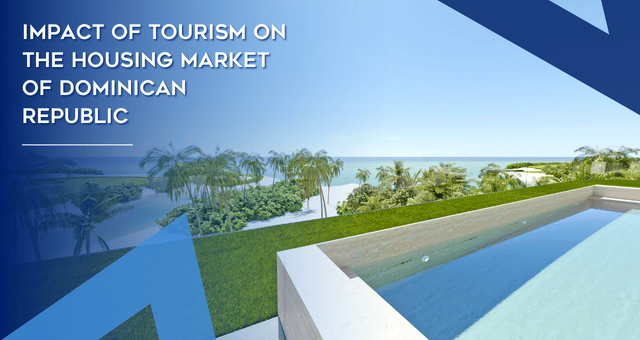 The market bounced back once again when the DR government reopened its borders and suspended the restrictive measures taken due to the pandemic. As soon as the international investors and foreign buyers returned to DR, market dynamics shifted drastically. Things are looking good again, and experts predict that the growth this time will be sustainable.
Generally speaking, tourism growth in any country significantly impacts its overall economy. The Dominican Republic is not an exception. The tourism boom in DR has so far created many employment opportunities in the major tourist destinations. It has also promoted export, generated foreign exchange earnings, and expanded the consumer market. But industries that benefited most from DR's tourism growth are its real estate and hospitality sectors.
The more tourists that visit a country, the more rental opportunities it creates. This is part of what drives the DR's real estate sector. Recent studies suggest that the housing market in Cap Cana is skyrocketing and will grow more over time. Just like any real estate investor, even you can make the most out of this boom as the law for foreign companies or investors does not stipulate any limitation.
One thing to consider is how investors can find Cap Cana houses for sale, analyze market conditions, negotiate with buyers, and close the deal successfully from a distance. Thankfully Coldwell Banker Prime Realty can help you with all these things. We are a full-service real estate company offering full-service support to help our clients acquire real estate properties seamlessly. 
Our services are not limited to finding Cap Cana homes for sale. We also help clients with market research, paperwork, negotiations, etc. In short, you will get all the possible support from us to make your real estate journey in the Dominican Republic smoother. Reach out now to discuss your investment goals.